How to Immediately Handle a Broken Window
By Great Lakes Window
Ultimately, when a window breaks the ideal solution is a replacement job. That isn't always the fastest solution however, and even if you are planning that much-needed replacement, you still have a broken window to deal with in the interim. Broken windows happen, so here's what to do between the break, and your new vinyl replacement window arriving.
Clean Up Broken Glass
Broken glass is a hazard, and worse yet, it often seems to spread all over the place. Immediately after a window breaks, ensure that children and pets stay out of the area around the window.
To fully clean up the glass you should put on your safety gear, including closed toe shoes with a hard sole and thick work gloves. Create a receptacle for the glass with several garbage bags layered together, and cardboard or newspaper available to wrap larger pieces.
Start by disposing of the big pieces. Sweep carefully, followed by vacuuming (ensuring no glass shards get under the wheel to scratch your floors). You will want to empty your vacuum immediately after.
Use damp, folded paper towel to pick up the microscopic glass shards that otherwise seem to find their way into hands and feet. Tape also works for this purpose.
Secure the Window
Your approach to securing a broken window will depend on the type of break.
Carefully assess a window that is cracked or partially broken, including the frame. The window may be stable the way it is, or it may be ready to fall and create even more of a mess! If it truly is just a crack, tape can work as a very short-term measure.
A fully shattered window, or one with a large hole, can be temporarily replaced with a piece of plywood as large as the window. A heavy tarp or plastic sheeting will also work. If there is glass stuck in place, cover it with a towel and leave it in the frame rather than trying to remove it yourself.
Contact the Pros
Depending on the situation leading up to the broken window you may want to get in touch with your insurance company. In the case of vandalism, burglary, or other criminal activity, it's important to contact law enforcement as well. They will document the damage and write a report, which your insurance may require as well.
It's equally important to get in touch with a window replacement company. The longer your home sits with an open, empty window frame, the greater risk for pests, outdoor elements entering your home, and theft.
Plan Your Window Replacement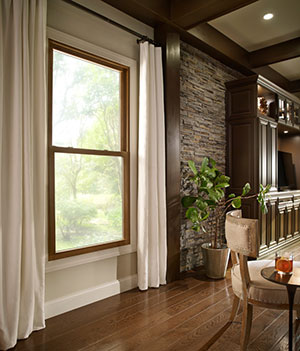 Having to replace a broken window is certainly frustrating, but it can also be a good opportunity. Now is the time to consider a new window style, or upgrading with features that ensure low-maintenance, energy efficiency, and safety and security. Of course, if you simply want to replace the window that met an unfortunate end with something similar to the original, we can help with that too!
Our Great Lakes Window dealers are experienced in dealing with broken windows and their replacements. They will consult with you, the homeowner, to find out what you're looking for in a replacement, and ensure that the wait for your new window will not be too long.
Tell us about your window issues, and we will work to find the solution. Find a Great Lakes Window dealer today!
---